March/April 2019 2-Day Presidential Traverse
Planning a 2-day Presidential Traverse in the White Mountains. Start from the north end, camp at Sphinx Col, and end at Crawford Notch. Pre- and post- nights will be either in camper at trailhead or nearby hotel.
Report from Joe's solo Presidential Traverse last year
Contact Joe with questions.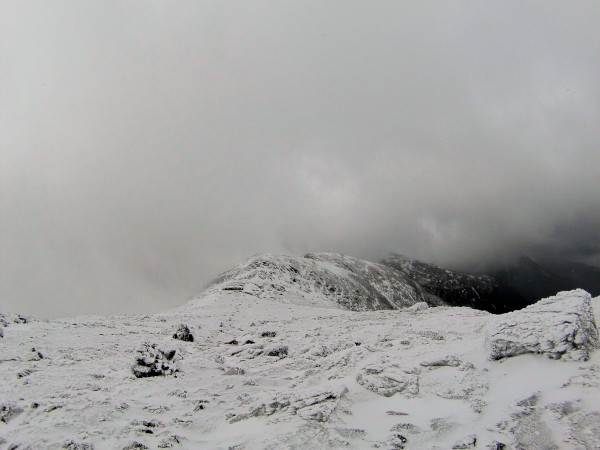 Gulfside Trail heading north from the Great Gulf north of Mt Washington
Overview
Seven Presidentials, the minimum route
Madison, Adams, Jefferson, Washington, Monroe, Eisenhower, Pierce
Common bonus summits, not actually named after presidents
Clay and Franklin lie between the Presidentials
Jackson and Webster are on small extension to the south
North to south is typical
Main stretch is all above tree line for ~12 miles
Only 3 structures providing solid windbreaks

Madison Spring Hut, Mt. Washington Observatory, Lake of the Clouds Hut
All closed in winter
Dates
Candidates:
Mar 21--24
Mar 22--25
Mar 28--31
Map 29--Apr 1
Apr 11--Apr 14
Apr 12--Apr 15
A Thursday start (Mar 21, Mar 28, or Apr 11) with flexibility to slip a day for better weather is ideal.
Cost
Personal equipment rental(s) if needed (~$125)
Shared hotel room or personal hostel cost (2x ~$30 person)
Shared tent rental(s) (3x ~$30 /person)
Shared gas + tolls
Personal food
Fitness
Need to be able to hike for 6--8+ hours at steady pace with a winter pack. Some trails are steep, some rugged, but there's nothing approaching vertical climbing (like, say, the early bottleneck on the Lion's Head winter route to Mt Washington).
Setting up and tearing down camp on Sphinx Col could be brutal cold & windy.
Weather
General Randolph, NH (north trailhead) weather
General Bretton Woods (south trailhead) weather
RMC Conditions at Gray Knob Cabin
Mt Washington Observatory reports
Mt Washington Avalanche Center Advisory
Be prepared for snow, serious wind, and extreme cold, especially overnight at Sphinx Col.
| | | | | |
| --- | --- | --- | --- | --- |
| | Temp Avg | Wind Avg | Sunrise | Sunset |
| March | 5--21F | 40 MPH | ~6:45am | ~7pm |
| April | 17--30F | 35 MPH | 6am | 7:30pm |
Itinerary
Four day, three night trip---
Day 1: Travel
Depart Philly ~9am to drive up (~8.5 hours + stops)

Go through N Conway, NH for rental gear (tent(s) at minimum) and last minute needs

Drive to and dump car(s) at Crawford Connector Trailhead

Maintained by US Forest Service
Off Mt Clinton Rd, just above NH 302 and the AMC Crawford Notch Highland Center
Self-deposit box, $3/day

Drive to north end of range

Stay in Gunnar's camper at Appalachia Trailhead or hotel or hostel
Day 2: Northern Half (Madison, Adams, Jefferson)
Early AM start from Appalachia Trailhead
Up Valley Way or Airline Trails to Mt Madison
Gulfside, Airline, Gulfside, Jefferson Loop, Gulfside to Sphinx Col

~4mi, 1800 feet gain, 2200 feet loss
Day 3: Southern Half (Washington, Monroe, Eisenhower, Pierce)
Early AM start from Sphinx Col
Across Mount Clay Loop (optional), Gulfside, Trinity Heights Connector, Crawford Path, Mount Monroe Loop, Mount Franklin Loop (optional), Mount Eisenhower Loop, Mount Pierce

~7.5mi, 2700 feet gain, 3400 feet loss

Down Crawford Path and Crawford Connector
Drive to camper or hotel
Day 4: Return
Collect car(s) from Appalachia Trailhead if not using camper
Drive home to Philly
CalTopo map of routes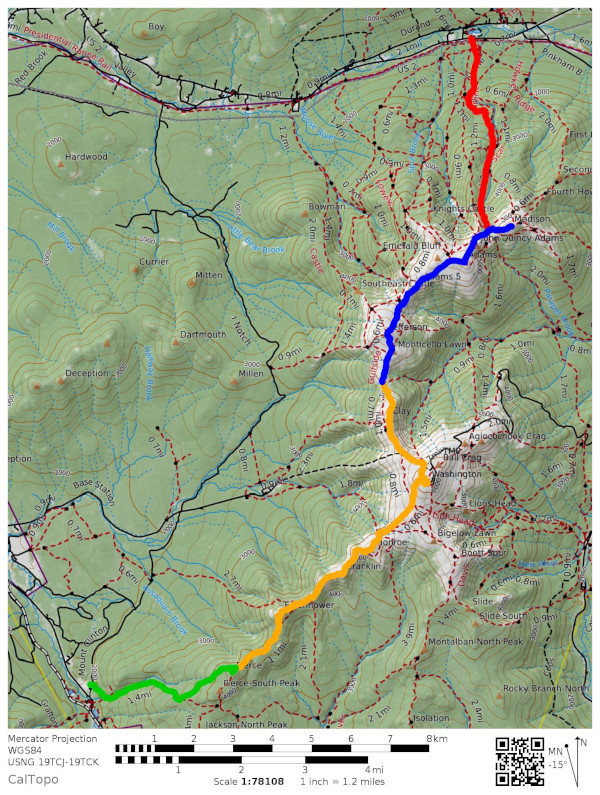 Gear
To be tuned for specifics
Mountaineering boots, crampons, axe required
Rent from EMS, IME, or other in N Conway

Will run ~$125 total for 3 days
Micro-spikes and trekking poles recommended
Snowshoes might be useful emergency gear (though hopefully unnecessary extra weight)
Lodging
Two nights in hotel or hostel if not using Gunnar's camper
One night in tent(s) at Sphinx Col
Joe has a 3-person 4-season tent, but it's heavy and takes a ton of pack room
Rent one or two 4-season tents for 3 or 4 people each

IME ~$80/tent for 3 days
NE Mountaineering has Trango 3s for $80/day, Hi Light 2s for $60/day
EMS does not have 4-season tents for rent