March 2019 Mt Adams
Beginner-accessible trip winter mountaineering in the White Mountains. Target is Mt Adams, in the northern end of New Hampshire's Presidential Range, via Lowe's Path, which requires crampons but no vertical climbing. Very similar to Joe+Caitlin's New Year's trip, which in part scouted this out but had stays in car+shelter rather than hotel+cabin as planned here.
Plan is four days, with one night in a hotel or hostel and two nights in a heated cabin near treeline. Projected cost per person is ~$225+food if renting boots+crampons+axe.
Contact Joe with questions.
Dates
Candidates:
Feb 28--Mar 3
Mar 1--Mar 4
Mar 7--10
Mar 8--11
Ideal is to plan on a Thursday start (Feb 28 or Mar 7), with flexibility to slip a day for better weather.
Cost
~$75 in lodging per person total for three nights
Assuming one hotel room split ~four ways, or hostel for similar price
~$125 for rental gear if necessary (boots, crampons, axe)
Shared gas + tolls
Personal food
Fitness
Need to be able to hike for ~4 hours at casual pace with a light-ish pack (clothes, sleeping bag, snacks, water). The trails are steep, but there's nothing approaching vertical climbing (like, say, the early bottleneck on the Lion's Head winter route to Mt Washington). Being able/building up to a couple hours hiking in the Wissahickon is a good indicator.
Weather
It'll be cold... Average temperature range for March on the higher summits in the Whites is 5--21F. But we'll be in a temperature-controlled cabin for the two nights out, and warmth shouldn't be a problem hiking.
Itinerary
Four day, three night trip---
Day 1: Travel
Depart Philly ~9am to drive to N Conway, NH (~8.5 hours + stops)
Pick up rental gear, last minute needs, get dinner
Drive to north end of range
Stay at hotel or hostel
Day 2: Approach
Pancakes (or whatever) at Waterwheel Breakfast & Gift House
Hike up Lowe's Path to stay at RMC Gray Knob Cabin

~3 miles, 3000 feet of gain
Steep hike in places, may require crampons, but no vertical climbing
Budget 4+ hours on the move
Day 3: Summit
Up to Mt Adams via Lowe's Path

~1.5 miles, 1500 feet of gain

Depending on time, continue on to Mt Madison

~1.25 miles, 1000 feet of loss, 600 feet of gain

Either back via Lowe's Path, or loop via Gulfside and Gray Knob trails
Steep hike in places, crampons required, but no vertical climbing
Budget 4+ hours on the move for basic plan, more for optionals
Day 4: Return
Down Lowe's Path to trailhead

Budget 3+ hours on the move

Lunch somewhere
Drive to N Conway to return rental gear
Drive home for late night arrival in Philly
CalTopo map of routes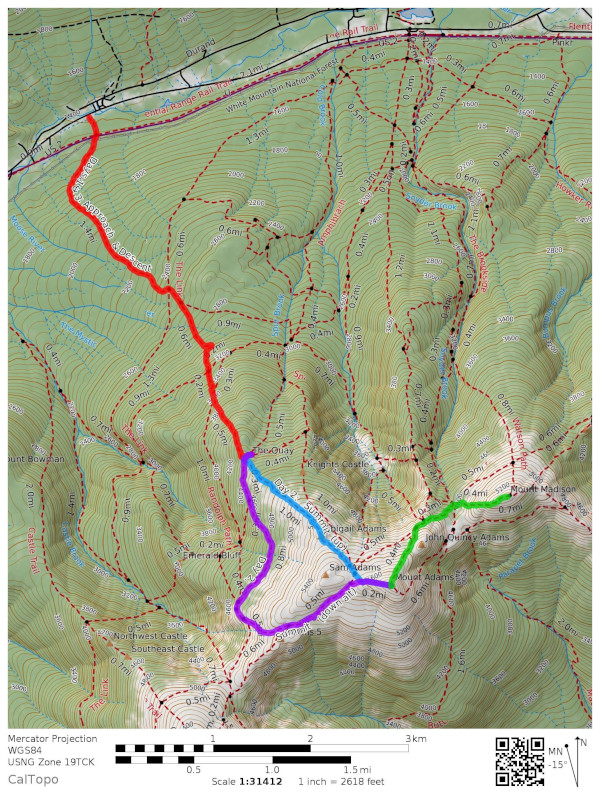 Gear
To be tuned for specifics
Good amount of gear available to borrow

Joe+Caitlin have couple down jackets, gaiters, headlamps, backpacks, etc

Joe has group gear---stove(s), first aid, etc
Mountaineering boots, crampons, axe required
Rent from EMS, IME, or other in N Conway

Will run ~$125 total for 3 days
Lodging
One night in hotel or hostel
Two nights in RMC Gray Knob Cabin
$25/night per person
Minimally heated, kept at about 40F

So 3 season mummy sleeping bags should be ok

Joe+Caitlin have several to lend